About
Everything changed for contemporary Christian artist David Ashley Trent when his little sister and only sibling was killed in a car accicent. She was 32 years old. The last thing she shared on social media was a link to his music. Influenced by this tragic loss as well as his faith in Christ, Trent is ready to tell his story in hopes that those who are weary will find strength in his lyrics. The soulful singer/songwriter has been successful in crafting a body of work that is being praised by a growing number of music enthusiasts: contemporary Christian fans who gravitate towards the raw instrumentation of acoustic and electric guitars, and country music fans who crave a lyrical foundation rooted in Biblical scripture. Over the past ten years, Trent has had numerous opportunities to hone his sound, having shared his music with hundreds of churches across the United States.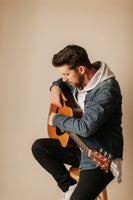 Custom content
First Hometown Show this Saturday 7:00PM
A concert of original music at Jackson, Tennessee's newest family friendly concert listening room, Catbird Studio. Americana husband/wife duo, The Shoemakers will perform the opening acoustic set. Doors open at 6:30 pm; show starts at 7:00 pm.